Overview of JSS2
JSS2[1] is the second generation of supercomputer system in JAXA (Japan Aerospace Exploration Agency).
JSS2 consists of "SORA"[2] and "J-SPACE"[3]. "SORA" offers computing resources. "J-SPACE" is the data-archiving system.
"SORA" had been installed in the following three phases. In April, 2016, "SORA" started its phase 3 operation with its full configuration.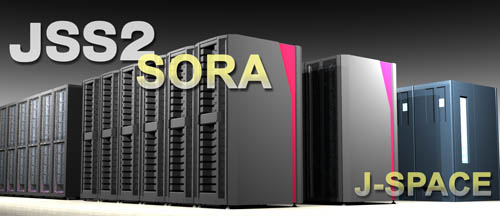 Phase 1: October 2014, 165 nodes of SORA-PP(Pre-Post), SORA-LM(Large Memory) and SORA-LI(Log In) started operation with 55.8 TFLOPS of theoretical peak performance.
Phase 2: April 2015, Part of SORA-MA(Main) system, which has 1.31 PFLOPS of theoretical peak performance, was added.
Phase 3: April 2016, full configuration of SORA-MA nodes (theoretical peak performance: 3.49 PFLOPS) was installed. Full configuration of JSS2 system started services.
J-SPACE manages 3PB of disk storage and 70PB of tape media hierarchically with HPSS[4](Capacity was enhanced on Jan., 2020.). It performs archiving activities for various data.
Notes
[1] JSS2: JAXA Supercomputer System Generation 2
[2] SORA: Supercomputer for earth Observation, Rockets, and Aeronautics. In Japanese, "sora" means "sky", "midair" or "space".
[3] J-SPACE: Jaxa's Storage Platform for Archiving, Computing, and Exploring
[4] HPSS: High Performance Storage System